Project Title
Clark College Libraries Visual Resources Databases
College Core Theme
Academic Excellence, Social Equity, Economic Vitality, Environmental Sustainability
Unit Goal
#1 - Learners receive instruction, resources and services that promote the achievement of their academic, personal or professional goals
#2 - Meet the current and future needs of the college community via demonstrating leadership and innovation in the use of technologies
See the complete Clark College Libraries Operational Plan.
---
2012-13, 2013-14
During July 2013 the Visual Resources databases moved to Omeka, an open-source content management system for library and archives collections and exhibitions. Throughout 2013-14 the Technical Services department will refine and evaluate the system.
Technical Services & Systems Librarian Radka Ballada supervised the project. Robert Schimelpfenig served as a consultant to determine a suitable platform for the collection, Pavel Popov provided IT support, and Aleksandr Anisimov built out the web interface and transferred the content to the new system. The intended outcome for the migration to the new system is improved functionality and integration with the library's other systems, increased capacity, and reduced costs.
2010-11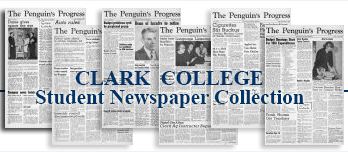 An ASCC Fund Balance grant provided the financial support for this project. Technical Services & Systems Librarian Radka Ballada supervised the project. The goal of this archival project is two-fold: to preserve Clark College history and to share the historical newspapers with the Clark community and the world at large. The first phase digitized and indexed the first three volumes of the Penguin's Progress (1959-1962). A user-friendly interface for the newspaper database was also designed by Robert Schimelpfenig as part of this project.
2006-07, 2007-08, 2008-09
An anonymous donation to the Clark College Foundation Excellence Fund provided the start up funding for this project. Faculty and staff from Cannell Library and the Clark College Art Department collaborated to digitize more than 5,000 images from the college's art slide collection. Many talented individuals made this project a reality: April Younglove, a Cannell Library intern provided indexing; Robert Schimelpfenig, archivist consultant created the database, digitized the slides and provided expert knowledge of the ContentDM platform; and Pavel Popov provided IT support. Their efforts made the images available to the entire college, particularly benefiting eLearning students and faculty.