Issue #38, June 10, 2015
Library Videos ... World Premiere!
The glitz! The glamour! The red carpet! ... If you missed the premiere of Clark Libraries 4-part video series during "Library for You Day," April 15, 2015, never fear, you can watch them in their entirety below ...
The Clark College Libraries Marketing & Outreach team wanted to spread the news about the kinds of services available at our locations. We knew that no one could share more about these services better than our visitors themselves. We asked four different groups of people, students, faculty, staff, and community members, to share how the libraries have helped shape their Clark journey in our recent video series, filmed and produced by Clark College Communications & Marketing.
"What Does the Library Offer?" stars:
Students: Byron Baugh, Diodato Boucsieguez, Joe Cristman
Faculty: Paul Casillas, Math; Jill Darley-Vanis, English; Kushlani de Soyza, Women's Studies; Bob Hughes, Computer Technology
Staff: Naomi Kay, eLearning Program Specialist; Catharine Keane, Career Center Manager; Jon Pielaet, IT Accessibility Specialist
Community: Jane Thiebaud
To watch individual videos, click the YouTube screenshots below. You can also watch them as one set.
"They Showed Me a New Life ..."
"The library helped me a lot because I came here EVERY day.

"I thought librarians just put books away. Wow! Was I wrong. These people have Master's degrees.

"Anything you don't know how to do, they are more than willing to help you.

"They showed me a new life, 'cause they opened up the world of books to me and how to research and find if I don't know something." -- Byron Baugh, Clark Student

---

"The library's been really great about putting together a list of visual texts (videos, films)." -- Kushlani de Soyza, Women's Studies Faculty

"I tell my students, don't buy it, here's this wonderful tool. You can get it, no matter how obscure or expensive. You have access to that ... It's a gift." -- Jill Darley-Vanis, English Faculty

"I use the Cannell Library website and the public library website. I encourage our students to do the same because they need to understand that the access to databases is going to be your best friend." -- Bob Hughes, Computer Technology Department Head 

---

"A lot of times people feel like, "Oh, I don't need the library, I have a computer at home." That's just not the case. There are resources here you can't find anywhere else, and one of those is people ... I feel like every time I enter the library I leave a better person." -- Jon Pielaet, IT Accessibility Specialist

"Even if I was not employed at Clark I would probably do everything I could to access the information.

"The library rocks ... What more can I say?" -- Naomi Kay, eLearning Program Specialist 

---

"I'm very interested in libraries because they've been a very special part of my life.

"I've been in many libraries in many countries and I immediately walked in here and I knew from using libraries in my lifetime that the doors would be open.

"This library offers a LOT to me ..." -- Jane Thiebaud, Community Patron
Library for You Day at CTC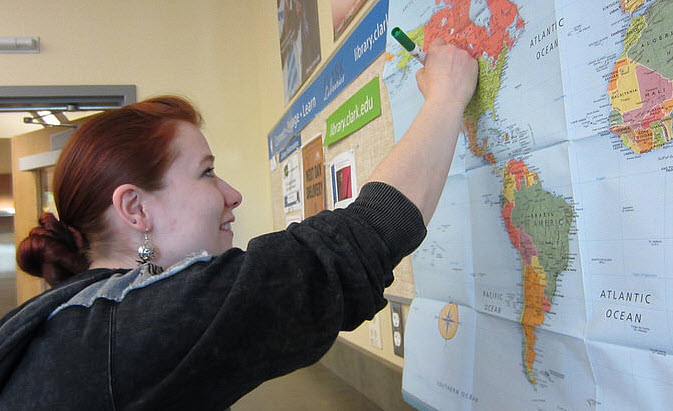 At CTC, students were asked the question, "What is your destination after Clark College?" They plotted their course on the map and also provided input on TodaysMeet on how Clark Libraries have helped them get to their destination. TodaysMeet empowers students by giving everyone a voice. Students also took selfies which were uploaded to Twitter. Students, faculty and staff also enjoyed watching the debut of the Clark College Libraries patron videos. (Photo by Connie Anderson)
Meanwhile, Back at Cannell ...
 

On Library for You Day, students in the Human Geography class displayed their vision for the library of the future.

Left, one of the inspiring, insightful posters.

Students that visited Cannell were invited to write their comments on large pieces of paper. Here's one of the more poetic:

"I have
been here for
about nine long quarters
and the past year or so, 
I have bought very few books. 
I have saved hundreds of dollars. 
Without the library here at Clark, 
I would not have a quiet place to study. 
I would have limited access to computers. 
I would not have a place to study as a group. 
I wouldn't have a lot of  the relationships I've made here -- 
I practically wouldn't have a home."
- Micah

Join us in 2015-2016 when we celebrate Cannell Library's 25th anniversary!
What's UP with the Journals, Magazines and Newspapers?
 

 

The journals, magazines and newspapers have moved, that's what!  All the back files of the periodicals are now UPstairs on the second floor of the library. 

Although on shorter shelves, they are very easy to find. From the top of the west staircase, just walk straight ahead, or after exiting the elevator, turn left and head due east past the small group rooms.

Back issues of newspapers can be found right in the center of the shelving. Periodicals are arranged alphabetically by title and then chronologically.

On the first floor, to spotlight all the journals and magazines, the most current issue of each title is now put out on display as soon as it arrives. The latest issues of daily newspapers are also in the same area. 

We added a few comfy chairs nearby to make this a perfect spot for relaxing and perusing the varied collection.

All that prime real estate on the first floor didn't stay empty for long. It's now the newly expanded collaborative learning area (below).
Machelle Oslund-Jones, a student in Paralegal 103, Legal Research (Alena Tupper), looks through an issue of American Law Reports, 2d, one of the many titles recently donated to Cannell Library by the Paralegal department.

Although a lot of legal research is now done digitally, the American Bar Association requires students to begin their legal research studies by rolling up their sleeves and navigating the vast and inter-related resources of a print legal collection.

The library's new Legal Laboratory Collection, housed alongside the Reference Collection, is intended to provide a rich learning experience for paralegal students, rather than an up-to-date working legal collection.

 

 
"Smile! You're Doing Fine!"
 
Three new study rooms were lauched this quarter ... and quickly discovered by students. The size is perfect for teams of two ...

 

 

Or one student working on two projects ...

Cassidy Gordon, second year Running Start and a senior at Camas High, did just that ... She assembled a glider for Engineering 104, Intro to Design (Carol Hsu), and practiced her senior speech.

Stressed out over the upcoming speech, to help stay focused, Cassidy drew a virtual audience on the whiteboard ... three faces, smiling, quizzical, and grumpy. Underneath, she wrote,"Smile! You are doing fine!" ... Words to live by!
Opening the Door to Lower Textbooks Costs with Open Friday
Throughout the year the library has hosted Open Friday, a monthly forum for exploring and implementing the use of Open Educational Resources (OER) at Clark. Open Educational Resources are materials that can be freely accessed, reused, and shared (Downes). The meetings have covered at lot of different topics: advocacy and outreach, copyright, and finding OER through sources like Open WA. The February meeting included student leaders, Emmah Ferguson, ASCC President and Sarah Swift, ASCC Vice-President, who joined in to discuss Open Educational Resources from the student perspective, including how this initiative can support the textbook affordability plank of the student legislative action agenda.
| | |
| --- | --- |
|   | Clark College Libraries was also awarded two Library as Open Education Leader grants through the Washington State Library and the Library Leadership Council. One grant was to create an Open Education advocacy plan and a second to support development of a course using OER. Librarian Kim Olson-Charles (left) has taken the lead on both of these. Kim has worked closely with groups across the college, including the Biology department which is developing BIOL& 160: General Biology as an open course. |
Talking Trash: Garbology Book Club
 

People across the college community were talking trash in the library. Garbology: Our Dirty Love Affair with Trash by Edward Humes that is.

During fall quarter, Cannell Library hosted the Common Read Garbology Book Club. Due to increasing popularity the meetings moved to the Teaching and Learning Center's classroom (GHL 205). Janette Clay,Transitional Studies Learning Communities Manager, organized the meetings. Each month she led the group in a discussion of different aspects of Humes' study of America's complex and costly relationship with the stuff that we buy and then eventually throw away; 102 tons in a lifetime.

Check out a copy of Garbology and join the rest of the college as they talk trash (and sustainability).
 

"That's one eerie consequence of our modern-day culture of waste. Not only do Americans generate more trash than any other society in the history of Earth, but growing evidence now suggests that our garbage — plastic waste in particular — is re-entering the food chain. In a roundabout way, we are quite literally eating what we throw away."

"What we're actually seeing in the ocean is this kind of chowder of plastic — these tiny particles that are the size of plankton," said Humes. "It's plastic that has been weathered and broken down by the elements into these little bits, and it's getting into the food chain."
DVD Spotlight ... Plastic Paradise: The Great Pacific Garbage Patch
"Thousands of miles away from civilization, Midway Atoll is in one of the most remote places on earth. And yet its become ground zero for The Great Pacific Garbage Patch, syphoning plastics from three distant continents.

"In this independent documentary, journalist / filmmaker Angela Sun ... reveals the effects of our rabid plastic consumption as she investigates The Great Pacific Garbage Patch ... and learns the problem is more insidious than we could have ever imagined."

"EVERY single piece of plastic that has ever been created since the 19th century is still SOMEWHERE on our planet. So if it never goes away, where does it go?" - Official Plastic Paradise site

Reviews below from Bullfrog Films:

"We are all familiar with trash, but most of us likely are unaware of indestructible plastic trash that pollutes the oceans, contaminates our seafood, kills birds, fish, and marine mammals as well as carrying toxic substances into the environment and our bodies. Plastic Paradise is an excellent, accessible, and troubling documentary that reveals these issues. My college age son thinks it is 'right on.' See it and share it with others!"

- Carl F. Cranor, Professor of Philosophy, Faculty of Environmental Toxicology Graduate Program, University of California-Riverside

"This film makes the case that the only solution is source control, and that consumers have a great deal of underutilized power."

- Dr. Joel Baker, Director, UW Puget Sound Institute, Professor and Port of Tacoma Chair in Environmental Science, University of Washington Tacoma

Ask for Plastic Paradise at Cannell Library's Check Out Desk (TD427.P62 P53 2014). It's licensed for both classroom use and public performance.

 
Who writes the Cannell Chimes? We all do! Everyone in the library contributes ideas and proofreads the drafts until we're all satisfied with the content. We hope you enjoy it, too!
Edited and photos by Roxanne Dimyan
---
Cannell Chimes Archives   |  Library Home Page   |   Clark Home Page
We welcome your comments, ideas, and suggestions.   rdimyan@clark.edu
Revised June 11, 2015, 6:20 p.m.
Brief Description
* Library Videos ... World Premiere! * "They Showed Me a New Life ..." * Library for You Day at CTC * Meanwhile, Back at Cannell ... * What's UP with the Journals, Magazines and Newspapers? * Looking for Perry Mason * "Smile! You're Doing Fine!" * Opening the Door to Lower Textbooks Costs with Open Friday * Talking Trash: Garbology Book Club * DVD Spotlight ... Plastic Paradise: The Great Pacific Garbage Patch