Issue #37, March 2, 2015
The Chimes Has a New Banner!
Thanks to a library/classroom partnership during summer 2013, Clark student, Kat McNeill, created the dynamic new look for The Chimes. Kat's instructor, Kristl Plinz, Computer Graphics Technology, commented:
"This has been a great 'client experience' for Kat! ... This project is part of her CGT 240 Capstone work, and we just used her experience with this process as an example story in our CGT 214 Professional Practices class! ... Thanks for the 'learn by doing' experience!"
Some background from Kat:
"I just wanted to thank you so much for the opportunity to work with the library Chimes banner, it was a terrific experience that I will never forget! 

"Just a little info on me: I am 49 years old, returned to school in hopes of becoming a nurse, but health problems did not allow that. I changed to Web Design and Development and will get my degree after the Fall quarter (my first and only degree).  After school I have decided to return to Market Research, where I will program Web and Web-CATI scripts for people to respond to on the web and by phone.  My new knowledge in HTML, SQL, and PHP will allow me to transition to new software that has saturated the field since I left it about 5 years ago."
Welcome ... in 27 Languages
Have you noticed the colorful Welcomesigns at Cannell Library and the iCommons at CTC?

Next time you visit, take a closer look ... You'll see Welcome in 27 languages ... How many do you know?

At CTC, the Welcome sign is perfectly positioned behind the Check Out Desk. It brings life into the space and encourages conversation with students.

A CTC student asked Nora Burmeister, "How many languages do you think I speak? ... Three ... Arabic, Spanish, English."

What a simple, friendly way to connect!

Left - Tracie is on a mission to check out a book for her History 127 class ... Decameron of Boccaccio. How does she feel when she walks into the library? "Peaceful and ready to work."

 
Increased Technology Options for Students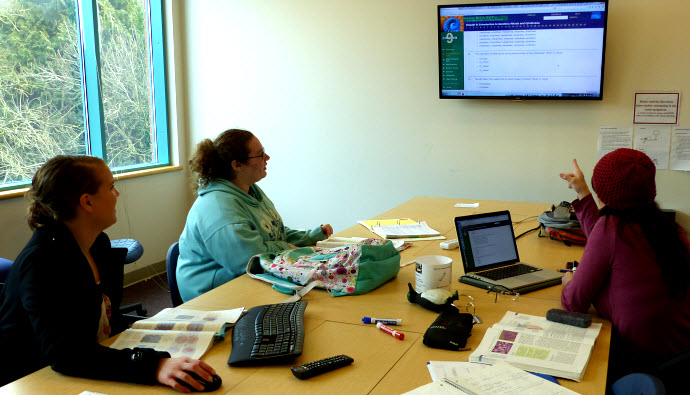 The library has successfully completed a project to improve technology options for students who work together in library study rooms. Study groups who reserve LIB 204 or LIB 212 collaborate more effectively because their plans and ideas can now be displayed on a video monitor where everyone can see. Students design and practice presentations as they easily switch to either a networked computer, laptop or personal tablet. For the smaller study rooms, students can borrow LED projectors and laptops to share ideas and create projects. The equipment with new tables and chairs provides students a convenient and efficient space with the technology needed to support group studying and learning.
Above, Lacy Munger, Victoria Costa and Julie Cady delve into mitosis and cytokinesis for Sandy Haigh's Biology 100 class ... Did you know, "25 million cell divisions are taking place each second'? ... page 176 of their textbook, Biology: A Guide to the Natural World.
The Laptop ESL Connection at CTC
 

Laptops are one of the most popular and most-used items at the CTC iCommons, especially among ESL and ABE students.These laptops check out for 3 hours and can be used anywhere in the building.

Pictured are students from Teresa Boyd and Sara Gallow's class working hard on their technology projects. Their students hail from diverse countries such as Thailand and Iraq. Here, the students are working in one of two iCommons study rooms which provide private space for collaborating in groups or solo space to complete homework. 

When asked why they use the iCommons, one student said, "The iCommons is a place where I can study and do my homework."

The best thing about the CTC iCommons is the small, close-knit community it houses and serves. The iCommons staff is never too busy to help a student format a document, locate a scholarly journal article, request a book from Summit, or change their personal information on the Clark College website.

Students working in the iCommons (whether they're using one of the 12 PCs, a personal device, or a library-owned laptop) are assured that they will receive personal and prompt attention to any issue that may arise.

Left, Connie Anderson, Access Services Specialist, checks out a laptop at CTC.
Two of Ray Cooper's Art 104 students took full advantage of Cannell Library for their soft pastels assignment.

Left - Your roving reporter spied this drawing on the floor upstairs, surrounded by art paraphenalia. Brady Howard appeared a moment later, happy to have his work photographed.

His model, the stainless steel, Guardian, by Joan Peekema. Donated to Clark College in 2000.

Working towards his AA degree, Brady has been at Clark since fall 2011 and just made his first sales commission at When the Shoe Fits.

Brady was eager to introduce Anthony Abruzzini, on the opposite side of the second floor, also AA degree bound, at Clark since fall 2012.

Anthony bikes in from Salmon Creek and back to his job at Burgerville. "That shows dedication!" Brady said. It's great to see students so supportive of each other's talent and efforts.

For this assignment, students could choose the location.

Anthony's take on Cannell Library: "This has got the neatest things of any place indoors."

Below, Anthony in action ...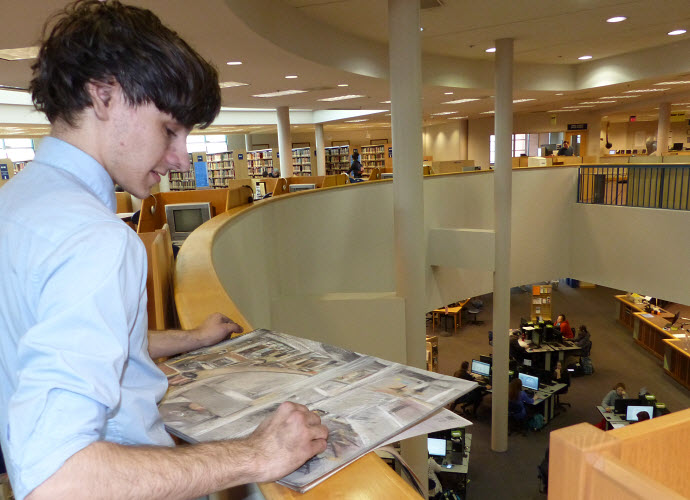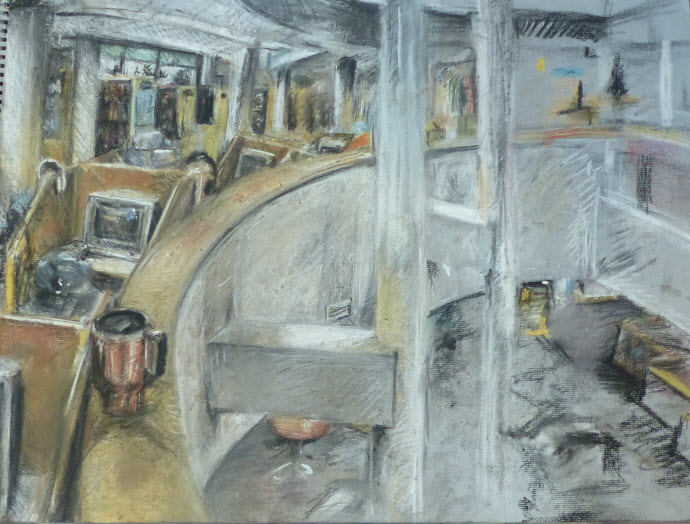 Why Do We Need a Pet? ... 
At the last Faculty Speakers event, Dr. Mika Maruyama, Psychology, tackled the "crucial role animals can play in early childhood development." ... "In America, most people own or have owned a pet, but they may not realize that these animals can actually improve your health and well-being."
If you'd like to explore the pet-human connection, try Gale Virtual Reference Library, with articles from over 340 subject-specific encyclopedias and reference books. That number has increased, as 800 volumes were recently added. A search for pets in GVRL will bring up articles in encyclopedias such as:
Encyclopedia of Alternative Medicine
Encyclopedia of Children and Childhood
Encyclopedia of Elder Care
Encyclopedia of Human Relationships
Encyclopedia of Science, Technology and Ethics
Pets can offer moral support while searching Gale Virtual Reference Library, as demonstrated by orange tabby cat, Perkins ... until she starts walking over the keyboard ...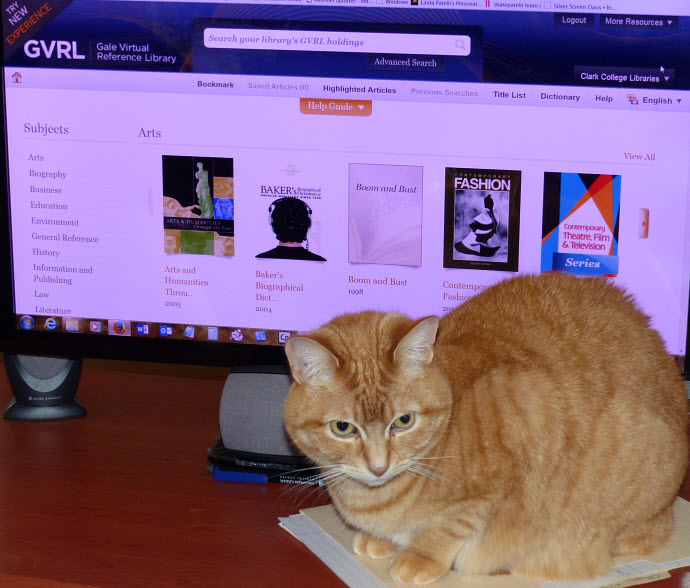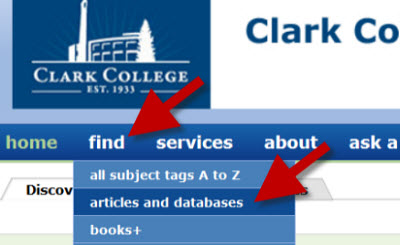 To get to Gale Virtual Reference Library:
At the library website, library.clark.edu, select find (in the top blue bar) to open the dropdown menu.
Who writes the Cannell Chimes? We all do! Everyone in the library contributes ideas and proofreads the drafts until we're all satisfied with the content. We hope you enjoy it, too!
Edited and photos by Roxanne Dimyan
---
Cannell Chimes Archives   |  Library Home Page   |   Clark Home Page
We welcome your comments, ideas, and suggestions.   rdimyan@clark.edu
Revised March 2, 2015, 7:49 p.m.
Brief Description
* The Chimes Has a New Banner! * Welcome ... in 27 Languages * Increased Technology Options for Students * The Laptop ESL Connection at CTC * A Different Perspective * Why Do We Need a Pet?