Issue #36, June 21, 2012
It's All About the People
Cannell Library is more than books, databases and computers. Without the people who work so diligently, the heart of the library would stop beating. We'd like to use this end-of-the-school-year, welcome-to-summer issue of the Chimes to thank our part-time temporary employees ... and let them introduce themselves in their own words. 
But first, let's hear from some of our full-time library staff about our much-appreciated "part-timers"!
Because we have such a small staff, part-time employees and interns are essential and significant to providing library services. Most importantly, the part-time employees make it possible to offer weekend hours and to be open later in the evenings during fall, winter and spring quarters. Some of the interns also assist with services such as interlibrary loan, Summit borrowing, reserves and video bookings.  Additionally, interns and part-time staff members help to provide continuing services when we have staff vacancies or absences. We definitely rely on these exceptional employees!  -- Amy Waite, Access Services Manager
Library interns are great! They bring with them all the enthusiasm and new practices fresh from library school yet they are also open and flexible to learning the demands of a working academic environment. Though it is only for a short time, I love our interns! -- Wendy Clark, Video Bookings & Course Reserves
Part-time temporary employees have helped Technical Services staff complete important one-time projects, as well as routine tasks that are crucial for serving our library patrons. For example, our current intern checks in new periodicals (so that our library catalog shows when a new issue arrives) and prepares them for use. One of our part-time temporary employees, Robert Schimelpfening, digitized art slides from the Clark Art Department and archival student newspapers and uploaded them into online searchable databases accessible to our students, faculty and staff only (art slides) or everyone in the world (student newspapers). In short, they play an important role in Technical Services operations and accomplishments. -- Radka Ballada, Technical Services & Systems Librarian
Our adjunct librarians are vital to the library. When they staff the reference desk, other librarians are available to teach library instruction sessions as well as perform other tasks and duties. Our adjuncts also teach LIB 115, a great class that offers information and technology literacy instruction at Clark College.

Our interns are very helpful. Interns ensure the reference desk is staffed during the afternoon and early evening. This is especially beneficial when the librarians are busy teaching. Interns also assist with collection development and tasks associated with our website. Viva las adjuncts and interns! -- Zachary Grant, Reference/Instruction Librarian
Access Services ... aka the Check Out Desk
 

Nicole Arnold

I started working at Cannell Library as a student assistant back in September 2008. I now work as a  LAPP 2. There are many things that I like about working here. All the staff are very kind and friendly, and the environment is all around pleasant. All the patrons that I help make this job very interesting. There is always something to keep me on my toes!
   
Currently, my favorite books are: Divergent by Veronica Roth and the Ugliesseries by Scott Westerfeld.
 

Read about Tammy's Rome adventures in her blog, Red Rome Pony, http://tboyer.tumblr.com.

 

 Tammy Boyer

After leaving the workforce to raise two teenage daughters, I contemplated re-entering the employment market when they finished high school. With a renewed focus, personal interest and attribute tests were leading me in the direction of librarianship. Clark College hosted a job fair where Joan Careywas speaking; my ambitions were confirmed after hearing Joan speak. The following week, I visited Amy Waite in the Cannell Library Circulation department to seek a volunteer position. The subsequent fall I enrolled in classes and became a work study student.

On the cusp of transferring to a university, I was offered a part-time circulation assistant position.

One of the rewarding aspects of working for Clark has been developing relationships with my patrons, student workers and colleagues.  Also, I absolutely adore the wealth of information that surrounds me!

Outside of Clark, I enjoy spending time with my horses, dogs, cat and chickens. My personal interests are the arts, crafts, gardening, cooking and travel. In addition to my employment at Clark, I work as an Administrate Assistant for Discovery Pointe Church. 

Last summer my dream came true by traveling to Europe, through Portland State University. I went to Rome under the tutelage of Art History Professor Jesse Locker. While visiting Sant Agostino Church I was able to view the Angelica Library. Founded in 1604 by the Augustinian bishop Angelo Rocca, the Angelica Library was the first European library opened to the public. There are about 120,000 ancient manuscripts and printed volumes, relating mainly to the thought of Augustine and the history of reform and counter reform. Additionally, my fellow classmate, Elizabeth, and I found a hidden treasure among the streets of Rome when we happened upon the Library Casanatense. Established in 1701, the library originally contained about 25,000 volumes. The current structure was built to house the collection and opened to the general public, according to the will of Cardinal Girolamo Casanata.

It's been a long journey, but now I only have to complete second year French to obtain my undergrad in Art History. Yippy! Currently, I am reviewing on-line library schools for an MLS.

Favorite book: The Secret Life of Bees.  Favorite author: Marguerite Henry. All-time favorite movie: The Wizard of Oz. Favorite artist: Raphael

Yelena Korgan

I moved to the United States from Sevastopol (Ukraine) in 1998. After 6 months, I was enrolled in the ENL program and then in the Business Administration program. 

I have loved numbers since my childhood. That's why I got my bachelor's degree in naval engineering and was an engineer in the Ukraine.

As much as I loved numbers, I loved books and always wanted to work at the library. Dreams come true: today I work at the library and as an accountant at my church. I enjoy spending hours preparing financial reports. On the other hand, when I have free time, I always read books. 

My favorite authors are Arthur Hailey, Erich Maria Remarque, Stormie Omartian and Charles Spurgeon. My favorite books are The Bible and The Thorn Birds by Colleen McCullough.

My hobbies are reading, playing the piano and swimming.
Tri Lam

In 2007, Tri began his Cannell Library venture as a work study student. He won two shelf-reading awards, which led to a 2009 OSWALD award for Outstanding Clark Work Study Employee, recognizing his special proficiency as a circulation assistant. He was then re-employed as an LAPP 2 substitute in November 2009.

Tri will be ending his "career" as one of our Access Services work leaders. He's planning to go back to school in order to complete a Bachelor's degree in business to complement his Associate Arts in pharmacy tech. Working part-time here while working full-time just doesn't give him enough time to study and still spend time with his wife, Quan.
Andrea Bullock

I started at Clark College in the fall of 2010. I worked at a public library while I attended library school and after a practicum at a university library, I discovered that I really enjoy being part of the learning process.

At Clark, I have the opportunity to assist students on the reference desk as well as teaching a class on online research skills and technologies. I enjoy the people I work with because they are dedicated and passionate about higher education.

My favorite movie is Philadelphia Story (1940), snappy dialogue at its best!

Want to recreate yourself as a swanky, '60s style Mad Men avatar like Andrea's? Go-go-go to MadMenYourself.com.
 Linda Fredericksen

I first began working at Clark College in 1990, as the library's Secretary Senior. After completing my MLS degree from Emporia State University in 1997, I traded in my typewriter for the duties of an adjunct reference librarian.  When I'm not working at Cannell on Sunday afternoons, I can be found at Washington State University Vancouver, where I'm the Head of Access Services. Current research interests include global resource sharing, embedded librarianship, and interlibrary loan.

Cannell Library has changed a lot in the years since 1990, when we still used a physical card catalog, even as what we now think of as dumb terminals started to appear. Although the technology has changed a lot, the students, faculty and staff at Clark are still the best part about working here. It is always a little bit exhilarating to connect an anxious, confused, stressed out student with a library resource that helps them do their work and then be present to watch as that student becomes more confident, assured and information literate.

When not working, I enjoy reading, knitting, a walk on a sunny day, travel and trying to be a foodie without actually ever having to cook. Most recently read book: Wild by Cheryl Strayed. Reading right now: Anna Quidlen's Lots of Candles, Plenty of Cake and We Heard the Heavens Then: A Memoir of Iranby Aria Minu-Sepehr.
Sue Phelps

I just got back from a trip to Ireland for a conference and some sightseeing. Research and travel are two of my favorite things. I also love to garden, quilt, read, knit, attend roller derby bouts, hike, eat and cook (when the mood hits) and to hang out with my 11-year-old granddaughter.

I love my Clark classes because the students are from such diverse backgrounds, ages, interests and have such interesting career and educational goals. I appreciate that they are enthusiastic about learning how to do good research and they see the value for their academic and personal use. 

I was a community college graduate way back in the day and I have a tremendous appreciation for the  mission of the community college, so it is a privilege to have a bit of an opportunity to give back.
Kim Read

What I like most about working at Clark: the fabulous students, who I consider to be my true employer, and the supportive library faculty and staff -- I feel lucky to be surrounded by great folks.

I started as an intern in 2009, then on-call in 2010, then as an adjunct in 2011. When I worked as an intern, I was finishing my Masters of Library Science degree at Emporia State University. For my BA, I studied anthropology and music at Colorado College.

As a part-timer, I have also worked in instruction and reference at Mt. Hood Community College, The Art Institute of Portland, Washington State, and Marylhurst University. My other current part-time position is Assistant to the President of the American Library Association (ALA). 

Favorite type of book: biographies, although truth be told, I would rather be watching basketball. :)  Besides basketball, my other interests include writing, recording and playing music, and spending time outdoors.
Julie Austad

I have been an intern at the Cannell Library for almost two years, in tandem with my Masters of Library Science program through Emporia State University, Portland. At Cannell, I wear many hats: I work at the reference desk to give research help, the circulation desk to help with the checking in and out of materials among other services, and in technical services, learning about how the library systems stay up-to-date and functioning by a lot of hard work in the background.

My favorite part about working at Clark is the sense of community. The faces I see in the library become familiar every quarter. I also enjoy my unique perspective at the library, as the only person to work regularly in the three departments. Teamwork and cooperation is essential, and each person plays an important part to support the library's mission.

When I'm not working at Cannell, I am working on projects for school. When I'm not working or doing homework, I enjoy spending time with my husband and two cats in Portland. I recently picked up sewing and enjoy creating home décor such as curtains and pillows. I am slowly taking a self-guided food tour across Portland, sampling tasty food cart meals, delightful coffee shops, and am on a never-ending mission for the best ramen in the city.
Jaki King

I've been with Cannell Library since August of 2011. I can't possibly express how much I love working here. The staff is amazing, the students fantastic and the atmosphere is wonderful.

Before I started down the path of librarianship, I wanted to be a filmmaker and got my undergraduate in Digital Media Production. I had high hopes of being the first woman filmmaker to win an Oscar. Kathryn Bigelow beat me to the punch!

My love of learning, research and all things books made working in a library an obvious choice for me.

My favorite film changes every year; currently it's Dirty Girl directed by Abe Sylvia. My favorite book is probably House of Leaves by Mark Z. Danielewski, Lisey's Story by Stephen King, and Pride and Prejudice by Jane Austen. There is no way a person can have just ONE favorite book.
Carolyne Begin

I am finishing up my first year of my masters in Library and Information Science and have been at the CTC iCommons since the end of April. Even though I haven't been here that long, it has been nice to experience different library settings, such as an Information Commons. The concept is really innovative and exciting!

School keeps me busy, but I love to knit and bake when I can. I also love to read, but I don't think I could pick a favorite book. There are too many that I love, but I can always count on Haruki Murakami to entertain me.
End of a Cataloging Era - Susan Harding Retires
In December 2011, after 29 years ... count 'em, 29 years! ... Susan Harding retired as the library's Cataloging Specialist.

What was library life like back in January 1983, when Susie first arrived? Picture this ... an old-fashioned card catalog, ditto duplicating machine, typewriters, only 1database computer (compared to over 90 computers today).  

Susie was there, in 1984, when the library was renamed in honor of Lewis D. Cannell and in 1990, when it moved from Gaiser to our current location. 

Over the years she served as an officer of WPEA and ACE, as well as winning a Quarterly Classified Staff Excellence Award in 2006.

 From her 2006 nomination, submitted by Pam Smith:

"Susan began her career at Clark College in a library that used 19th century technologies and she has been integral to moving Cannell Library into the 21st century. Susan's skills and enthusiastic participation were pivotal to the library's conversion from print to digital records, automation of the library catalog, migration to the current Web based system and participation in the Summit union catalog. Cannell Library's records were migrated flawlessly from system to system in large part thanks to Susan's accuracy and oversight."

As for the future, post-Cannell, Susan said:

"I am looking forward to being able to spend some time with my grandchildren. I hope to visit my oldest daughter in Minnesota and my youngest granddaughters, the youngest of them I have not even met."
 
Beginning of a New Cataloging Era
Cheryl Davenport

I have been working at Cannell Library for 12-1/2 years and started as a work study student in September 1999 in Access Services. During that time, I have worn a number of different hats, working in Access Services doing circulation related duties (1999-2002, 2007) to Technical Services where I have done serials (2002-2011), interlibrary loan (2008-2010), electronic resources (2010-2011) and now cataloging (2012 to present). After many years of moving around the library, I have found my happy place doing cataloging.
 
One of the most rewarding, yet challenging things about working at the library is that things are always changing. This means I have to be a perpetual learner and that each new challenge provides an educational experience. The other great thing is that I can help our students realize their educational pursuits through cataloging of library resources.
 
I enjoy birding, spending time with family and reading science fiction and fantasy, though most of my reading as of late consists of Dr. Seuss board books with my toddler. So while I can't give you a review of the latest book in the Song of Ice and Fire series, I can tell you what happens if you give a mouse a cookie.
Joan Carey

I came to Clark in March, 1994. I have absolutely loved being both a Reference Librarian and a teacher. I've watched Cannell  grow from a nice, sleepy little library to a very busy, very vibrant place of learning — with a branch library. I'm particularly thrilled that the Student Learning Center from TPC is moving to main campus and that we'll finally be able to fully integrate the libraries. It's also sad that I won't be here to see it.

As much as I've been happy here for a VERY long time, I know that it's time to make a change. Less than 2 weeks ago, I decided to take the current faculty buyout (it's a good deal) and look forward to finally joining my husband in retirement. 

These pictures showcase our Sprinter Van, where I hope I am on September 12, 2012. Whatever piece of water we are parked near, I will raise a glass (of very good wine) to all of you and wish you a wonderful new academic year.

(Click photos for more expansive view of landscape.)
Changing of the Guard - Joan Carey Retires
Lori Wamsley, Reference/Instruction Librarian, is leaving Clark, but not journeying too far away ...
"I'll be at Portland Community College working as a faculty member in the Education department, where I'll be teaching in the library media program."
This will be a red letter summer for Lori, as she completes the written portion of her Ph.D. dissertation. Congratulations in advance, Dr. Wamsley!
Cannell Student Employees Shine!
Every quarter, Cannell Library employs work study students to perform regular library operations and receive workplace experience. And every quarter we honor the work study student(s) who best perform their duties. Winners are determined by exemplary dedication to the library task of quality shelf-reading. They must catch all of their "traps" and consistently produce high quality work. They receive a Photoshopped poster of themselves in their choice of a fun theme or silly situation. Popular themes of past years have been comic books, Spongebob Squarepants and classic films.
 
Our Fall Quarter winners were Anna Garbuzov and Jessica Kyte. Our Winter Quarter winner was Jessica Kyte again (a two-time winner!) The winner(s) for Spring Quarter will be determined at the end-of-quarter celebration after finals conclude.
 
Congratulations to our exemplary students!
(Click posters below to see larger images, created by Wendy Clark.)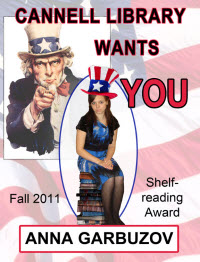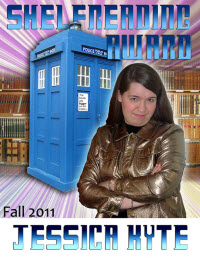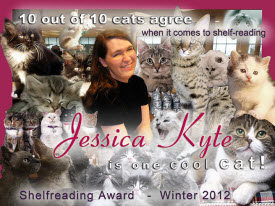 Summer Quarter Faculty Information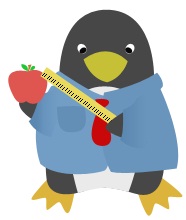 Library Hours:
Both Cannell Library and the Information Commons @ CTC will close June 21 at 6:00 pm and will reopen July 2. During the break, faculty and staff may gain entrance to Cannell Library by calling 360-992-2504. To meet with a particular person, please call ahead to make sure the person is available.
Summer hours: July 2-August 23
Cannell Library, Monday-Thursday, 8:00 am - 6:00 pm
Info Commons @ CTC, Monday-Thursday, 7:00 am - 6:00 pm
Course Reserves:
New reserves that are received on or before June 27 will be available to students on the first day of summer classes. Items received after that date will be processed as quickly as possible, but may not be ready until after classes have begun. Fall quarter course reserves will be accepted starting Monday, August 20. To place a new item on reserve:
1) Print and fill out the Cannell Library Course Reserve Form or submit the form electronically.
2) Bring the reserve material to the library.
Video Bookings:
Please book the videos you plan to show in class as soon as possible to avoid scheduling conflicts! Of the 1,500+ videos and DVDs owned by Cannell Library, a few key items are very popular. Book videos with at least ten days advance notice and you can receive the videos in your campus mailbox. You can use our online video booking form or call 360-992-2553.
Questions?
For renewals and information, try our website (library.clark.edu) or call 360-992-2151.
For reserves and videos at Cannell Library, contact Wendy Clark, wclark@clark.edu, 360-992-2553; atColumbia Tech Center, contact Connie L. Anderson, clanderson@clark.edu, 360-992-6137.
The Databases, They Are A Changin'
Do you or your students use ProQuest to find articles from newspapers, magazines and journals?
Do you use Gale Virtual Reference Library to find reports on current topics to help complete assignments?
Do you use Opposing Viewpoints to help write persuasive papers?
If you do, please be aware there will be some changes in how these databases look starting this summer.

How different will they appear and what can you expect? The changes are very noticeable and you can expect the library staff will be ready and willing to help you learn how to navigate the new interfaces during summer and fall terms. We'll continue to keep you up to date on the changes as they happen, so stay tuned.
DVD Pick of the Litter:
Truth in Numbers? Everything, According to Wikipedia
"After viewing this provocative documentary, you will never look at Wikipedia the same way.

"Filmmakers Scott Glosserman and Nic Hill engagingly explore the history and cultural implications of one of the most traveled and referenced sites on the Internet.

"A whole range of opinion is expressed about the impact of Wikipedia on the archiving of learning, from interviews with founder Jimmy Wales to commentators suspicious of the site's supposed neutrality.

"The documentary delves into the EssJay controversy in which a Wikipedian made false claims about his academic credentials and the battle over journalist John Seigenthaler's inaccurate entry.

"Evenhandedly weaving multiple perspectives about the impact of Wikipedia, the film provokes a deeper conversation on how knowledge is formed and what future generations will learn about history and the world."  (from www.imdb.com)

To reserve Truth in Numbers? for class, contact Wendy Clark, wclark@clark.edu, 360-992-2553.

Ask for the DVD Truth in Numbers? at the Check Out Desk.  Call #: AE100 .T78 2010
Who writes the Cannell Chimes? We all do! Everyone in the library contributes ideas and proofreads the drafts until we're all satisfied with the content. We hope you enjoy it, too!
Edited by Roxanne Dimyan
---
Cannell Chimes Archives   |  Library Home Page   |   Clark Home Page
We welcome your comments, ideas, and suggestions.   rdimyan@clark.edu
Revised June 21, 2012, 2:51 p.m.
Brief Description
* It's All About the People * Access Services ... aka The Check Out Desk * Adjuncts ... * Interns ... * End of a Cataloging Era - Susan Harding Resigns * Beginning of a New Cataloging Era * New Full-Time Serials & IT Technician * Changing of the Guard - Joan Carey Resigns * More Changes * Cannell Student Employees Shine! * Summer Quarter Faculty Information * The Databases, They Are A Changin' * DVD Pick of the Litter: Truth in Numbers? Everything, According to Wikipedia