Issue #20 April 14, 2006

TILT Update: Email Results!


Good news! Students can now email TILT quiz results to their instructor!
Two versions of the The Information Literacy Tutorials (TILT) are available through the library's web site (http://www.clark.edu/Library/Instruction/tilt_home.html:
Full TILT includes an introduction to the Internet and three modules

TILT for Success is a one-module version designed for students in College Success, HDEV 116/117.
The email feature requires that the instructor's name be added to the drop-down menu. We have added names of faculty who are known to use TILT. You may use this link to see if your name is on the list: http://www.clark.edu/Library/TILTforSucccess/quiz/end.php . If you would like your name added to the list, please send an email to Maria Schenk.
Many thanks to Maria Schenk for making this feature work!

   New! Online Reference Service    


Did you know that during a typical week, the library's web site receives more than 16,000 requests for web pages ("hits")? Of these, 35% are requests from off-campus users. In order to meet the increasing needs of remote students, the library, in collaboration with Distance Education, has added an "Ask A Librarian" online reference service. Our thanks to Glen Jenewein, Director of Distance Learning, for getting this service up and running.
Adjunct librarian, Krista Reichard, will be available to chat live with students 10 hours a week. Students also have the option of using the online form to email their question; librarians will respond in 24-48 hours. The hours of operation and more details are available on the Virtual Librarian page, http://www.clark.edu/Library/Instruction/ask_us.php
New Staff and Services for Reserves & Video Booking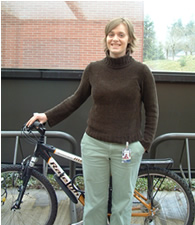 Please welcome Kristin Poage to the library staff. Kristin works in the Circulation Department and is responsible for Video Bookings and Reserves.
For complete information about placing items on reserve, please see Placing Materials on Reserve. You may also call Kristin at x2553 or email her kpoage@clark.edu
To facilitate video bookings, Cannell Library is now offering an online interactive video booking form. You can access the form via the library home page by clicking on the "Book Videos" link under the For Faculty/Staff section.
The new form should ease the process of booking videos. Features allow you to:
Request multiple items per form
Send the form electronically instead of printing out a paper version
Leave special instructions regarding your video booking. Try it out!

   Notice Any Changes?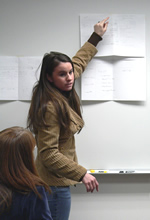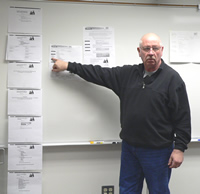 For the 5th year in a row, students in Bob Hughes' GRCP210, Interface Design and Usability, have performed usability studies on the library's web pages.
As part of an on-going collaboration, students in the class are given a general areas to focus on and are encouraged to design solutions that will provide a more user-friendly interface to the library's information and instruction resources.
You'll find little changes throughout the site, but two of the major ones are the top navigation box on each page, and the tabbed interface on the Library Information pages.
Students say that this real-life experience will be valuable in their future careers. The Librarians always come away with new and valuable insight into what our students want and need in a usable interface.
Thanks to Bob Hughes for coordinating this activity! [Photos by Roxanne Dimyan]

   Spring Quarter 2006 Hours    

April 3 – June 15, 2006:

Regular Hours
Monday - Thursday: 8:00 a.m. - 9:00 p.m. 
Friday: 8:00 a.m. - 4:30 p.m. 
Saturday, Sunday: 1:00 p.m. - 5:00 p.m. NOTE: The computer lab (2nd floor) closes 15 minutes earlier than the library. 

Holiday Closures
Closed: Sunday, April 16, 2006 (Easter) 
Closed: Saturday, May 27 through Monday, May 29, 2006 (Memorial Day) Closed for the term Thursday, June 15 at 4:30 pm. QUARTER BREAK: June 16 through June 25, 2006*
*Please be aware that library faculty are not on campus during quarter breaks. 
During the break faculty and staff may gain admittance to the library by buzzing in at the back door. Please call ahead to x2504 to make sure the person with whom you'd like to meet is available.

   From the New Book Shelf    


Artificial Intelligence: A Beginner's Guide by Blay Whitby, (Oneworld Publications, 2003) Call Number: Q 335 .W45 2003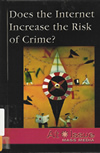 Does the Internet Increase the Risk of Crime? Edited by Lisa Yount, (Thomson Gale, 2006) Call Number HV 6773 .D64 2006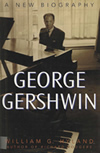 George Gershwin: A New Biography by William G. Hyland, (Praeger Publishers, 2003) Call Number ML 410.G288 H95 2003

The Great Plague: The Story of London's Most Deadly Year by A. Lloyd and Dorothy Moote, (John Hopkins University Press, 2004) Call Number RC 178.G72 L665 2004

How Dogs Think: Understanding the Canine Mind by Stanley Coren, (Free Press, 2004) Call Number SF 433.C668 2004

Impressionism: Paint and Politics by John House, (John House, 2004) 
Call Number ND 547.5 .I4 H684 2004

Medical Ethics edited by Laura Egendorf, 
(Thomson Gale, 2005) Call Number R 724.M29273 2005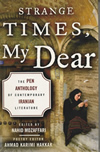 Strange Times, My Dear: The Pen Anthology of Contemporary Iranian Literature 
edited by Nahid Mozaffari, (Arcade Publishing, 2005) Call Number PK 6449.E1 S77 2005

Stress Management for Dummies by Allen Elkin, (Wiley Publishing, 1999) Call Number RA 785.E455 1999
Why Zebras Don't Get Ulcers by Robert Sapolsky, (Henry Holt and Company, 2004) Call Number QP 82.2.S8 S266 2004
Who writes the Cannell Chimes? We all do! Everyone in the library contributes ideas and proofreads the drafts until we're all satisfied with the content. We hope you enjoy it, too! We welcome your comments, ideas, and suggestions.
---
Cannell Chimes Archives   |  Library Home Page   |   Clark Home Page
Revised 4/14/2006. We welcome your comments, ideas, and suggestions. jdean@clark.edu
Brief Description
* TILT Update: Email Results * New - Online Reference Service * Puzzled by Library Terms? * Chronicle of Higher Education - online * New Staff & Services for Reserves & Video Booking * Notice Any Changes? * Spring Quarter 2006 Hours * From the New Book Shelf